Top Colocation Trends to Look Out For
The way companies store and protect their data is changing. Across company size, information technology spending per user was $7,569 in 2019, according to the annual report by Computer Economics. This is a decrease from $8,183 in 2018. This suggests that, though IT budgets are rising, according to the same report, more businesses are turning to cost-effective solutions for their IT needs.
Colocation is one of the ways businesses are saving money on IT costs.  The revenue of Data Center Colocation Market crossed $35 billion in the year 2017 and is predicted to touch 90 billion-dollar mark till 2024, growing at 14% between the years 2019 and 2024, according to research by Global Market Insights. According to the research, congestion on the cloud infrastructure is increasing IT costs, encouraging growth in colocation. More and more businesses are turning to colocation as a secure, efficient and cost-effective solution to network storage.
As a growing industry, colocation is often changing. Just last year in 2019, American Tower acquired Colo Atl, a colocation business in Atlanta. American Tower owns the most extensive wireless infrastructure in the world. The acquisition marks a merging of the data center and wireless sectors. It is representative of a growing trend.
6 Colocation and Data Center Trends to Watch for in 2020 and Beyond
1.  Increased Government Security and Regulation
According to Global Market Insights, government and defense sectors are increasingly adopting colocation services to manage their confidential and classified data. This data needs to be stored safely. Because of this, colocation providers will need to work to ensure that IT facilities are protected securely, including advanced management solutions to protect from data loss.
Data center infrastructure management (DCIM), or the marriage of IT security and facility management solutions, will be increasingly important as more government institutions and other industries with classified information move to colocation.
2. Continued Rise of Edge Computing
Edge computing is the practice of capturing, storing, processing and analyzing data near the client, where the data is generated, instead of in a centralized data-processing warehouse. It is growing increasingly popular. According to the Forrester Analytics Global Business Technographics Mobility Survey, 2019, 57% of mobility decision-makers surveyed said they have edge computing on their roadmap for the next 12 months.
By distributing their data center infrastructures to the edge, businesses can better connect to digital supply chains. Thus, they have the ability to adapt to changing business demands. They can also improve performance while decreasing costs.
For 2020, the extra push is to integrate hyperscale and edge data centers. Thus, colocation trends to look for are any that support the Internet of Things, Artificial Intelligence (AI), big data, autonomous vehicles, and more.
3. Efficiency of Hyperscale Computing
Hyperscale computing is the ability of an architecture to scale appropriately as increased demand is added to the system. Often it consists of a distributed architecture that expands and contracts as the needs of your organization change. It involves hundreds of thousands of servers working together on a high-speed network.
Hyperscale computing accommodates the ever-increasing demand for behind-the-scenes computing resources, but they don't take up additional space and the electricity and cooling that would come with it. In 2019, Forrester predicted hyperscale computing would be a big thing in 2020.
Benefits for Large Datacenters
The keys to hyperscale computing are standardization, redundancy, automation, high-availability (HA) and high-performance computing (HPC). Extremely large data centers take advantage of hyperscale computing.
A traditional corporate data center supports hundreds of physical servers along with several thousand virtual machines (VMs). However, a hyperscale data center can support thousands of servers and millions of VMs.
Benefits for Smaller Datacenters
A great deal of architectural changes and open source software have been created for hyperscale data centers. You can expect these innovations to trickle down to the smaller data centers as well.
These features help them use physical space more efficiently. Such efficiency uses less power and allows the network to respond more quickly to end-user's needs.
How We Handle Hyperscale
SME Quote
4. Multi-Facility Data Center Campuses
The location  and structure of data centers continues to matter a great deal to companies. A growing trends in colocation is multi-facility data centers. Multi-facility data centers offer more advantages than standalone centers.
With modular design and fiber-optics, businesses can create several facilities on one campus. Even the largest campus has room to grow with this design.
Also, the physical perimeter, facility, and cybersecurity all remain manageable. All these benefits reduce business risk.
Multiple Stories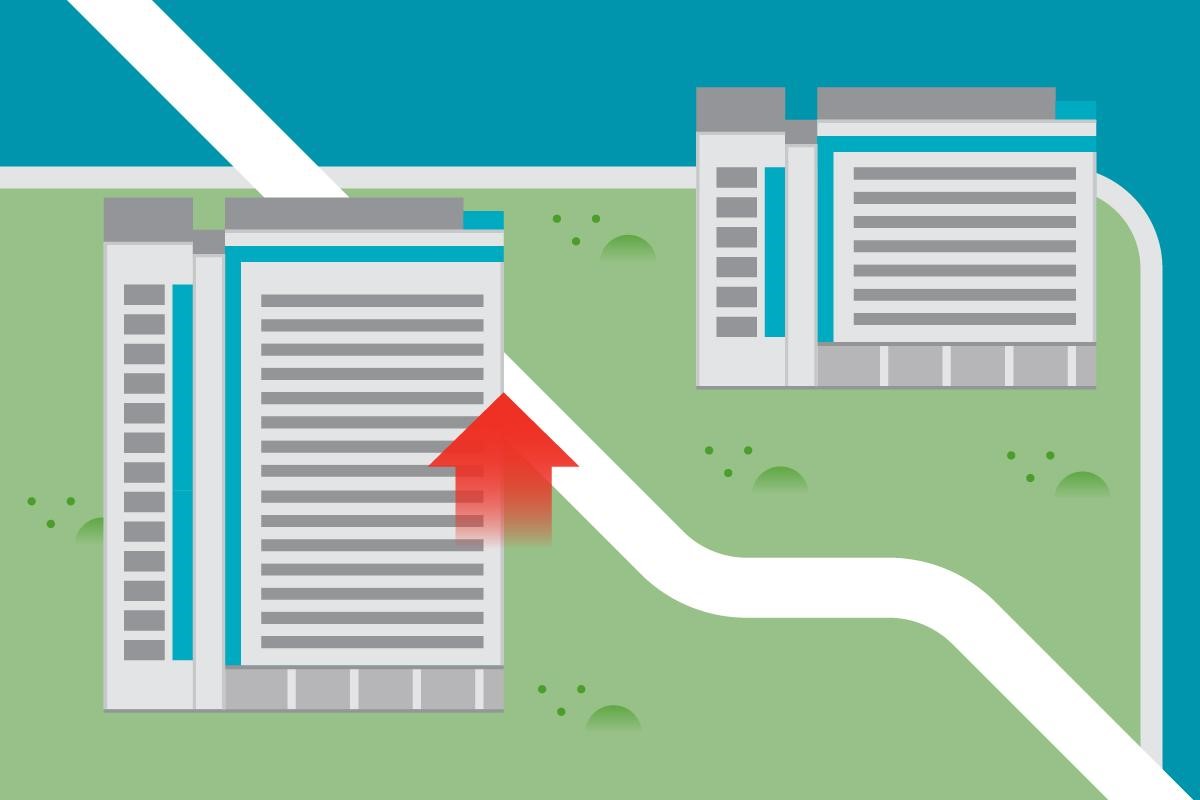 In the United States, in particular, more multi-story data centers are rising, DCD Magazine reports. Companies get more value out of their property by building up. They can build powerful data centers on smaller campuses.
While expanding vertically can provide logistical challenges, the premium price on land, especially in crowded metropolitan markets, means you can house a lot more tech by building up than out.
Modular Builds
In the push to build data centers faster and with efficiency, data center providers are adapting to the infrastructure supply chain. They are providing modular builds and just-in-time inventory.
Colocation companies are building megawatt hyperscale data centers in shorter amounts of time. Even more, the demand is on a global scale. To keep up, they have shifted construction from stick-built construction to prefabricated.
suggests that modular data centers are in demand and will continue to be through 2020. The market value of the modular data center industry was $13.41 billion in 2018.
Rather than construct on-site, most of the materials are pre-assembled modules. Once delivered to the site, it's a matter of assembly. The resulting shortened time to market reduces construction costs.
The result is an adaptive supply chain with a low cost of capital. Providers can shift components across construction sites. And, they can provide volume pricing for large projects.
5. Wireless Network Speed
Fast networking speed is crucial to keeping up with the demands of cloud services and hedge computing. So, another colocation trend involves upgrading for faster network speed.
Employing 5G wireless networking is the way to go. Another is tapping into the newest and fastest cables, nicknamed "internet bridges."
5G Wireless Networking
The next generation of wireless networking, 5G, impacts all data centers. 5G supports 100 times the devices and 1,000 times the volume than previous networks.
It does this with 10x lower latency. This, in turn, improves battery life for users' wireless devices. While 5G hasn't integrated everywhere yet, companies are planning for full integration by 2020.
The New York Times reported that big carriers and network providers are promising 2020 will be the year 5G rolls out nationwide.
Submarine Cable
In 2018, the powerhouse hyperscale cloud companies, Facebook, Amazon, Microsoft, and Google upgraded to new submarine cable. Those in the industry dubbed these cables "internet bridges."
These cables interconnect the world, conveying network traffic faster and better than ever.
In 2019, colo providers should expect a boom in hybrid cloud infrastructures. Companies will seek new applications to leverage these ultra-fast submarine cables.
Why Network Speeds Matter
SME Quote  about the importance of network speeds in 2020.
6. Global Data Center Suppliers
With today's technology, global data center suppliers are no longer a luxury. This may be less of a trend of colocation and more a fundamental change in data center philosophy.
Global data center services are now essential to remaining competitive. Thus, to become a leading global supplier, you must have locations across the globe.
To be a leader in the global data center sector, you must also have global operating procedures in place. Along with those are global design standards, and a firm global business model.
That model should include clear contract guidelines, pricing, and workload balance projections.
The Biggest Data Center Trend is Colocation
According to Gartner, the data center is almost dead. In a 2019 survey, 80% of respondents said they would shutter their traditional data centers by 2025. Colocation is a great replacement for traditional data centers because it offers higher availability, reliability, certified building tier levels, energy efficiency, dedicated facilities management and the ability to scale.
If you're ready to launch into 2020 with colocation, Get More Info about ColoCrossing.