Expert Colocation

Solutions in New York City, NY

ColoCrossing's New York City, NY data center features 360,000 square feet of space with network carriers provided by Constant. With 100% redundancy with guaranteed uptime, you'll be glad you choose colocation cabinets and cage space from us! Get More Info to Get More Info about our New York City data center.
Colo Servers

Pricing & Plans

Single Server Standard Configuration
| | |
| --- | --- |
| Rack Space | 1U |
| Power | 1 Amp 120V Power |
| Transfer | 10 Mbps |
| Network Uplink | Default 1 Gbps Port, up to 10 Gbps Port |
| IPV4 Space | /29 |
| Further Customization | Available |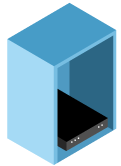 Add-Ons Our

Colo Servers Include
Looking
for More?
Dedicated servers and virtual servers that provide the speed you need for your work
Managed hosting, disaster recovery, datacenter migration, DDoS mitigation, and much more
Catering network solutions for web/VPS hosting, government, healthcare, eCommerce, and much more



Convinced? Get in Touch with Us Today!
Please call 1-800-518-9716 to speak one-on-one with a member of our team, or fill out the form below